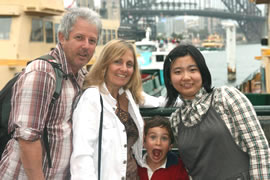 We are continuing to have record breaking numbers of students requiring homestay. Students are also coming to Australia younger and younger. Education institutions are also accepting students more often throughout the year. All of these reasons combined mean that we are constantly looking out for who has rooms available. Please keep this in mind and do let us know when your rooms become available. Even if we don't have a student straight away, we will add your name to the availability list and be in touch with you as soon as we do. The particularly high demand areas are those with convenient transport to
UNSW
,
City
,
Strathfield
,
Kogarah
,
Beverly Hills
,
Chatswood
,
Parramatta
and
Cabramatta
24 Hour Emergency Contact
Oz Homestay
operates an out of hours mobile telephone service for GENUINE emergencies, which is available 24 hours a day, every day of the year. Please note that this is for emergencies only.
Examples of an Emergency
Student needs hospitalisation, is in a life-threatening situation or has been the victim of an assault.
Student has not returned home overnight or within a reasonable time after they were expected, especially if this is out of character for the student.
The following are NOT Emergencies – and can wait for business hours
You have a vacant room and are looking for a new Homestay student.
You are interested in registering as a Homestay host.
You wish to discuss your student not keeping their bedroom tidy.
Student is 15 minutes late.