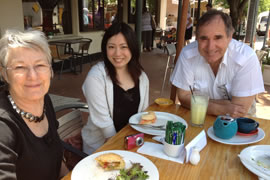 The 2012 International Student Survey found that 87 per cent of international students in Australia were satisfied or very satisfied with their study and living experience here, up from 86 per cent in 2010.
More than 90 per cent of over 50,000 respondents indicated that personal safety was one of their main reasons for choosing to study in Australia.
According to recent figures supplied by DEC International:
72% of students rated homestay as GOOD to VERY GOOD
73% felt the quality of accommodation was GOOD to VERY GOOD
60% felt quality of care was GOOD
When asked about the good things about their homestay:
22% enjoyed the food
19% reported nice and friendly family members
10% commented on their room
While 7% reported that their current homestay was very loud and noisy, 30% did not have anything negative to say about their current homestay.
62.5% of students did not change their homestay
32.5% had changed 1-3 times
For those that did change homestay, the following reasons were mentioned:
31% changed because they were dissatisfied with food & living conditions
19% changed for travel reasons/ change of school to a different area
18% changed because students had a poor relationship with host
12% changed homestay because they moved to independent living (>18)
(Source: DEC International)