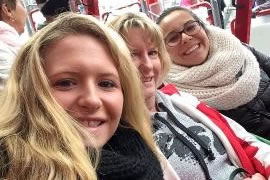 We recently requested feedback from all of the families hosting students on the Study Abroad Program. We would like to thank you all for your timely response and wonderful stories and photos. This feedback is passed on not only to the NSW Department of Education, but also to the Education Agents overseas and the students parents. A staff member from the NSW Department of Education will be travelling to Germany shortly and will be taking copies of this feedback with her to discuss with Education Agents in person. We would like to share a few stories and photos here.
Samira staying with the Tolley Family – Coffs Harbour High School
We have thoroughly enjoyed hosting Samira. Samira enjoys cooking & often joins me in preparing evening meals. She also prepared a typical Swiss cake for an early childhood class who decided it would be a good idea to have a sharing of Swiss & Ozzie foods in a class get-together. We have been on a lot of cultural outings, including local plays, international pianist concerts and more. We had a special visit to The Pet Porpoise Pool. Our oldest son is the head trainer & caretaker at the pool. She managed to get some fantastic photos!
Elisabeth staying with the Hadfield Family – Cronulla High School
It has been an absolute pleasure having Eli living with us she feels right at home and was part of the family straight away. She is enjoying learning how us Australians live and she tries really hard to be an Australian and talk some slang. She loves having a joke with us. She is always so happy and excited and asking if she can do anything to help with dinner, which is great! We have taken Eli to the Blue Mountains for the weekend she loved it and thought the view was amazing. We know that the rest of the time we have with her is going to be very enjoyable and we are going to be sad to see her leave as she feels part of the family.
Silvia staying with the O'Connell Family – Menai High School
Silvia has been an absolute joy, she is a very caring, fun, and interesting girl. Silvia has settled into our Australian family life very well. She is very happy with her home on the river and her new school and school friends. Silvia has had a few outings already with our family and new school friends. Silvia joins in with the family dinner, helps prepare food and eats everything I put in front of her, she has even taught us how to make and cook pasta. Silvia has been paddleboarding on the river, which she is looking forward to doing more of when the weather warms up.