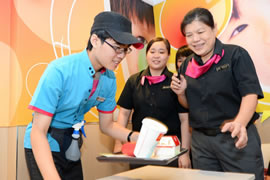 There seems to be an increasing concern from hosts, and also schools, that many students are working, often for 'cash jobs.' The students therefore are working illegally and could face the possibility of having their visas cancelled if caught by the Department of Home Affairs.
This is part of an email we have received from the Department of Education in relation to high school students working: The DE International is required to confirm study commencement with Department of Home Affairs to activate student's permission to work. Students must have been enrolled for at least two terms. A signed parent's consent letter and a copy of their school attendance record is required before we approve students to work. Please include student's email address and mobile number.
Basically this time period is whilst they are studying at an Intensive English Centre. The maximum students are allowed to work is 20 hours per week, they can work full time during the school holidays legally. The students should have a tax-file number. The Department also recommends that students only work Friday evenings, Saturday and Sunday. They should not be working on school nights as that is part of their study time.
If work does impact on their schooling, not doing homework, frequently late for classes, then the school can cancel their work permits as this is part of their visa conditions that work must not impact on their studies. If you have any concerns about your student, do not hesitate to contact us.