Families
Please select a topic of interest below or use the "Families" menu in the sidebar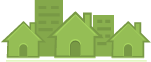 What is a Homestay?
A
homestay
is a
private home accepting overseas students to live as a part of the family
, a homestay host can be
an individual, couple or family
. Being a homestay host provides
great insights into other cultures
and can be a very rewarding cultural exchange experience with a
small financial remuneration
.
Life-long friendships are often established through the process
. It is not a matter of simply renting out a room in your house. Students choose to pay for homestay accommodation during their study because it offers them the opportunity to be part of a
good family environment
. They like to be treated like members of the family.
For more details
, please refer to
Standard of Homestay Requirements
.
To register as a homestay host
, please refer to
Host Family Registration Procedures
.

When is a Carer required?
All international students under the age of 18, who are not residing in Australia with a parent, or legal custodian, must have a carer
. In most instances the homestay family will also be the carer of the student.
For more details
, please refer to
Carer Responsibilities
.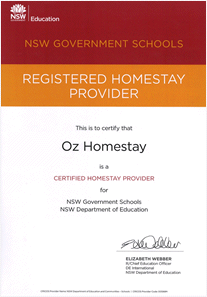 DEC Certificate
Oz Homestay
is proud to be a
fully certified
Homestay Provider for NSW Government Schools and the NSW Department of Education.
» View DEC Certificate as a PDF