Institutions
Please select a topic of interest below or use the "Institutions" menu in the sidebar

Study Tours
Oz Homestay
regularly organises
study tour
accommodation for
institutions
. Tailored to suit the specific requirements of the group,
study tours
range in duration from
1-16 weeks
, with anywhere from
12-60 participants
.
For more details
, please refer to our
Study Tours
page.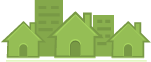 Homestay Placements
Oz Homestay will find the host family that best matches any special requirements that you have.
The host family will provide you with a furnished room, including one bed, a study desk and lamp, clothes hanging space and heating (if necessary).
All linen (sheets and towels etc) will be provided and washed regularly.
Breakfast and dinner 7 days per week, lunches on weekends.
Access to the common areas of the home will be given.
The homestay family will be located within 45 minutes travel time to your study location (all transport is subject to peak hour delays).
Homestay does not include internet, printing, computers, telephone costs, weekday lunches and other personal items.
For more details
, please refer to our
Quality Homestay Placements
page.

Welfare Arrangements
All International students under the age of 18 years old must, by Australian Law, have a carer whilst they are in Australia
. Various institutions have their own additional requirements in relation to welfare arrangements for students under 18, but for general welfare arrangements please visit the
Carer Responsibilities
page. All
Oz Homestay
families acting as carers have a current
Working with Children clearance check
.

Airport Pickup
Oz Homestay
drivers will meet the student at
Sydney Airport
and transport them to their homestay family. All of our drivers are professional, holding the appropriate licence and insurances required for transferring passengers. Those
drivers transferring students under the age of 18 hold current Working with Children clearances
.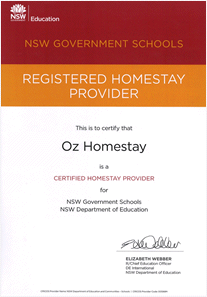 DEC Certificate
Oz Homestay
is proud to be a
fully certified
Homestay Provider for NSW Government Schools and the NSW Department of Education.
» View DEC Certificate as a PDF